Peace of mind and confidence from beginning to end. We look after you throughout the whole investment process.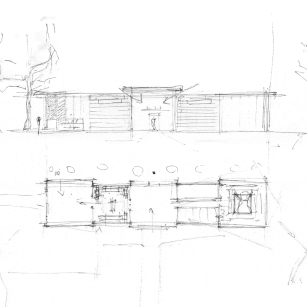 We offer a comprehensive service focused on design and architecture. We design based on your individual needs.
We represent our clients during the administrative proceedings, and in the process of obtaining a building permit.
We control the investment budget at every stage.
We may act as a substitute investor or project manager, coordinating and supervising the turnkey execution.
Process
Signing the contract defining the scope, time horizon and an estimate of the investment budget
Analysis of the Investor's needs (Reiss motivational profile), determining the functional program and stylistic framework
Concept design for the plot/ the body of the building/ functional layout + Concept design for the interior
Construction design for the Building Permit along with the coordination of utilities, the necessary permits, and assurances for the provision of utilities
Interior design – visualizations + Executive interior design
Full-discipline executive design (architecture, structure, installations)
Author's supervision, investor's supervision, coordination of construction and finishing works (project management)
Offer
We start with a concept based on which a land development design and an architectural and construction design are created. We run the administrative proceedings, which means that we communicate with offices, and inter alia we obtain a building permit. After obtaining a building permit, we prepare a full-discipline technical design that includes the installation and structure design.
We prepare designs of a functional layout with very high-quality visualizations, as well as executive designs with detailed technical drawings, including solid furniture. We make cost estimates and prepare a budget.
Supervision, coordination
A service performed after the completion of the design process that starts the execution process. At this stage, we fully supervise the execution processes and ensure coordination at each level. We make regular on-site visits; we prepare photographic documentation and keep the client informed about the progress of works.
We deal with comprehensive furnishing including furniture, lighting, bathroom fittings, built-in units, and accessories necessary for immediate use, thanks to which we create a space ready for living for the customer. We rely on our own brand Salomona, as well as cooperate with many respected producers, including FLOS, TON.